Create an SEO blog that manages itself
Automatically write, publish and rank blog posts on an auto-built SEO blog, that brings traffic to your website and grows your online presence.
As seen on: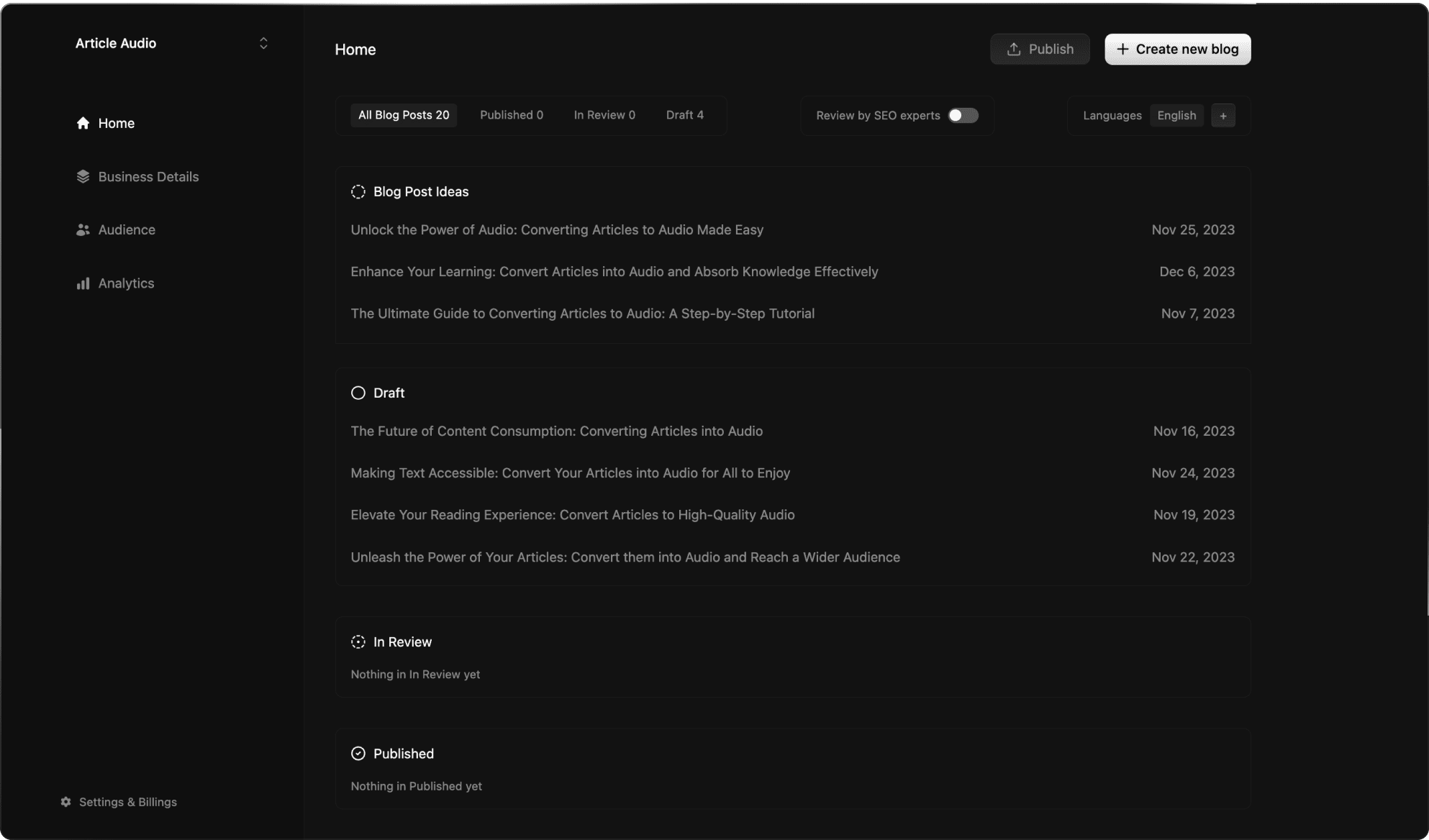 The only fullly automated SEO blog solution made for busy business owners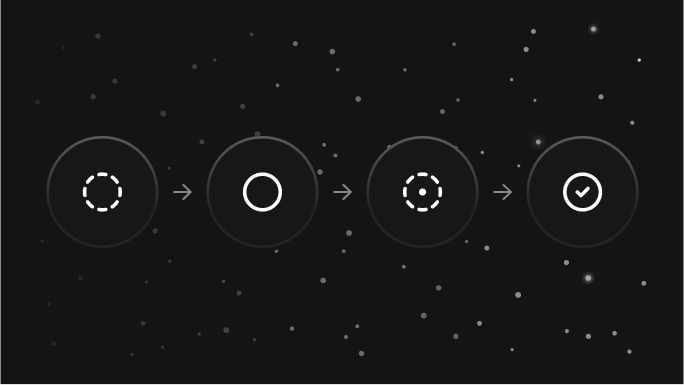 Automate content, at scale
Say goodbye to daily manual writing and publishing. Automate the entire process, ensuring that your content reaches search engines.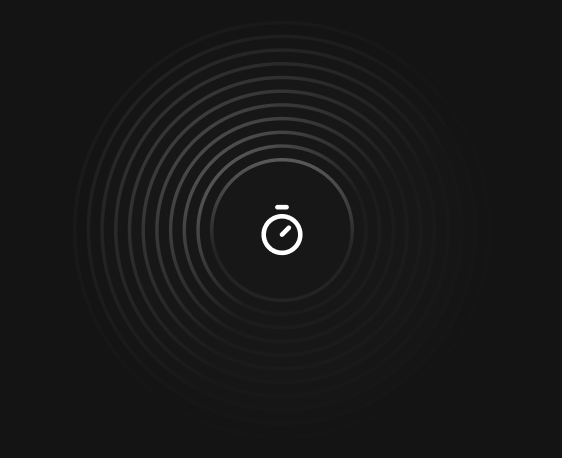 Save time & effort
A fully operational blog without any management on your part, to free up time for your core business.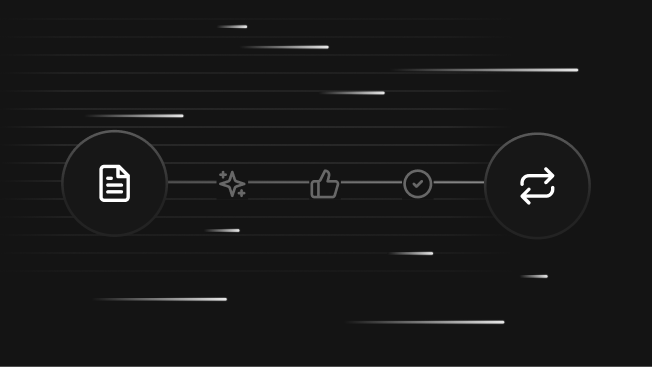 Consistency & quality
Regular content boosts SEO, maintains audience engagement, and solidifies your position in the market.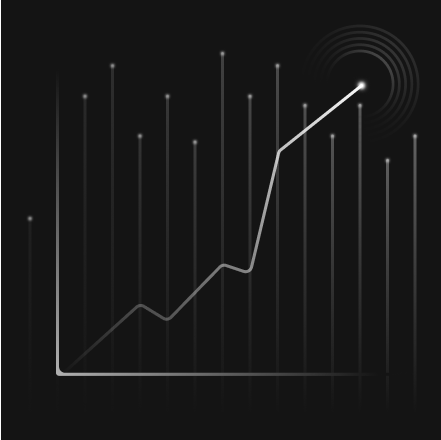 Improve rankings to win clients
Auto-ranking increases the visibility of your blog, attracting potential customers to your main website.
#1 AI SEO Solution
The fastest and easiest way to get a SEO blog for your business without having to manage it
Provide some details
Answer three simple questions about your busines to help our AI undestand your needs and your target.
Let the blog write itself
Articles are auto-written based on your business keywords and consistently published to please Google.
Publish your blog in one-click
Publish your blog, with no technical skills required. On a new domain name or on your existing solution.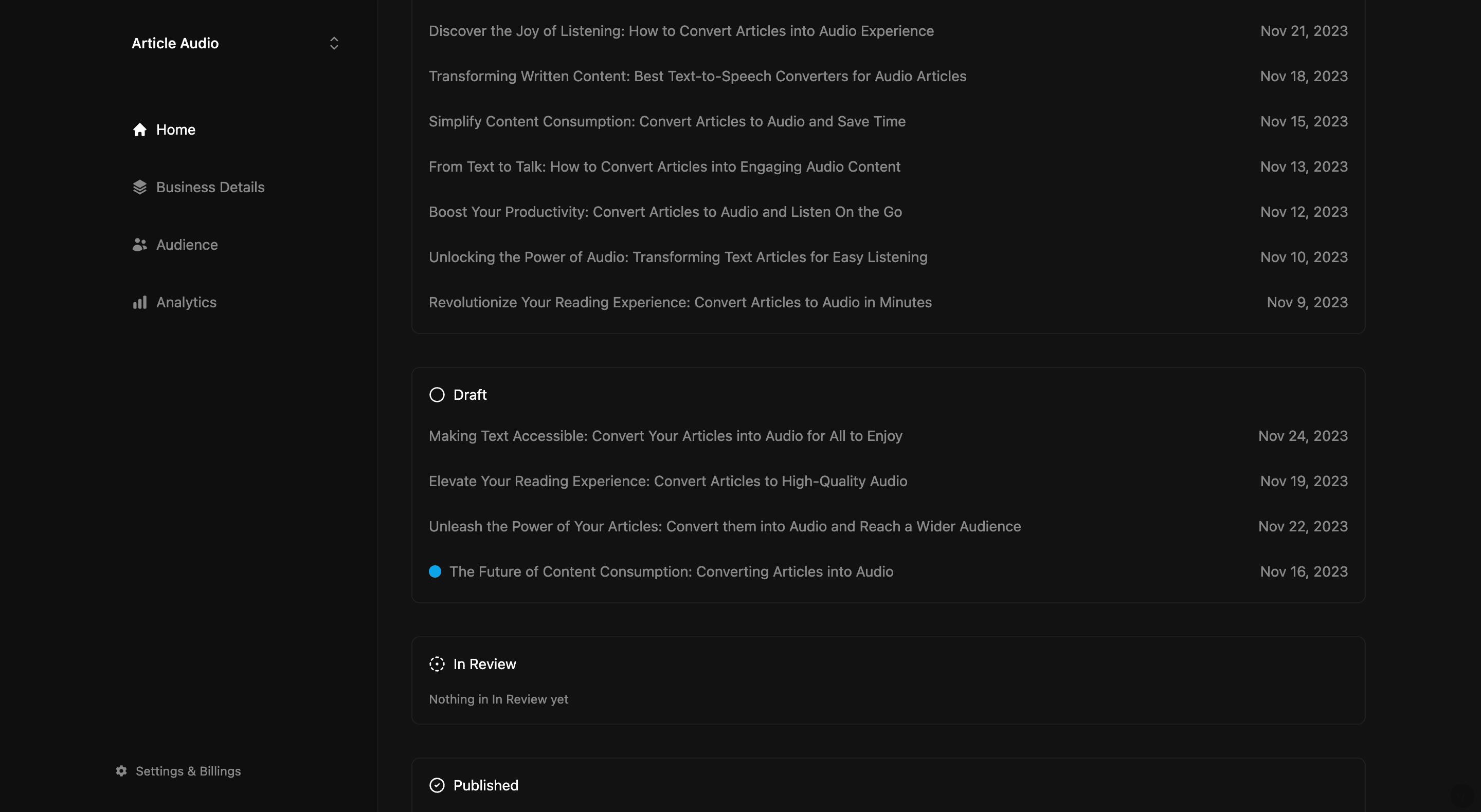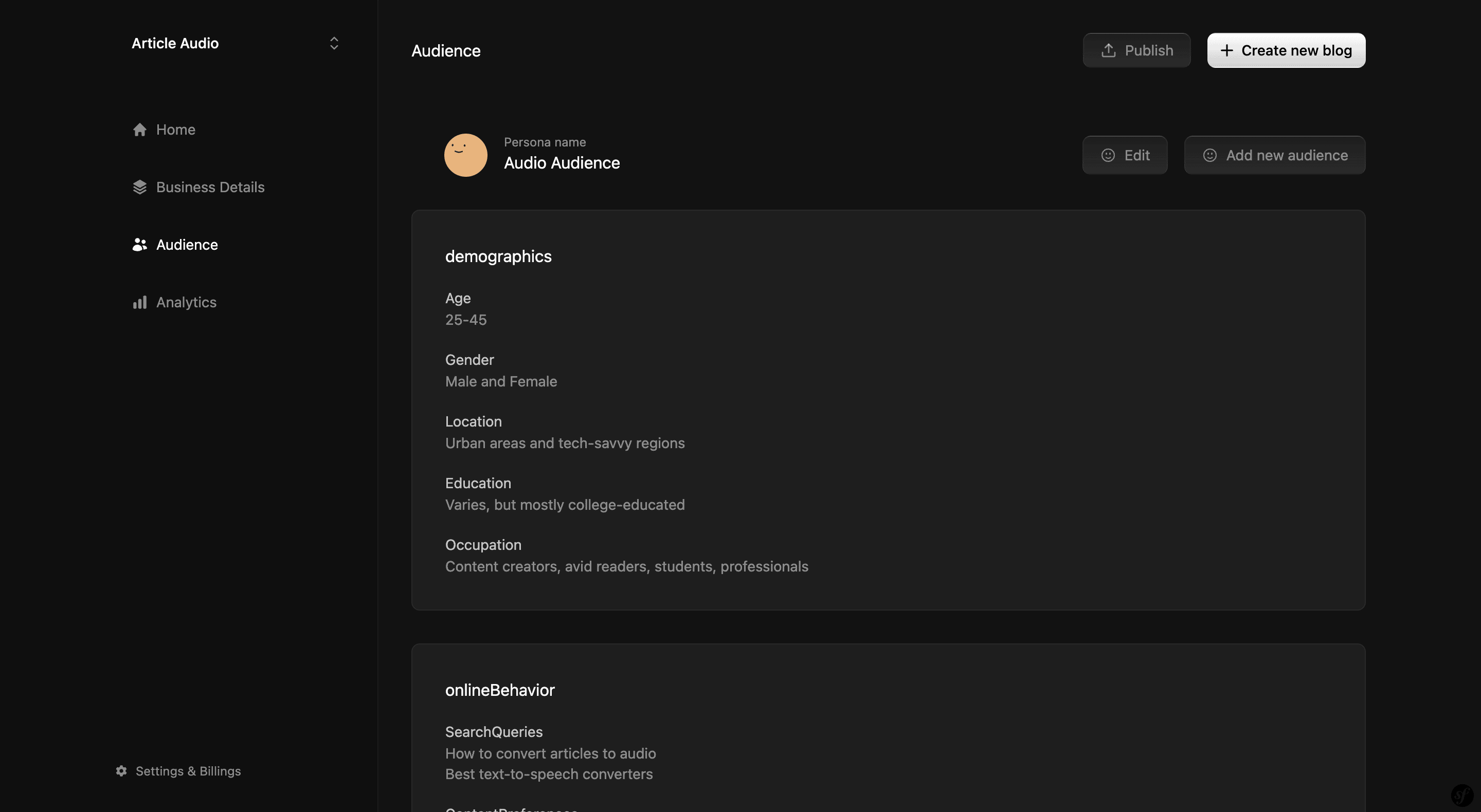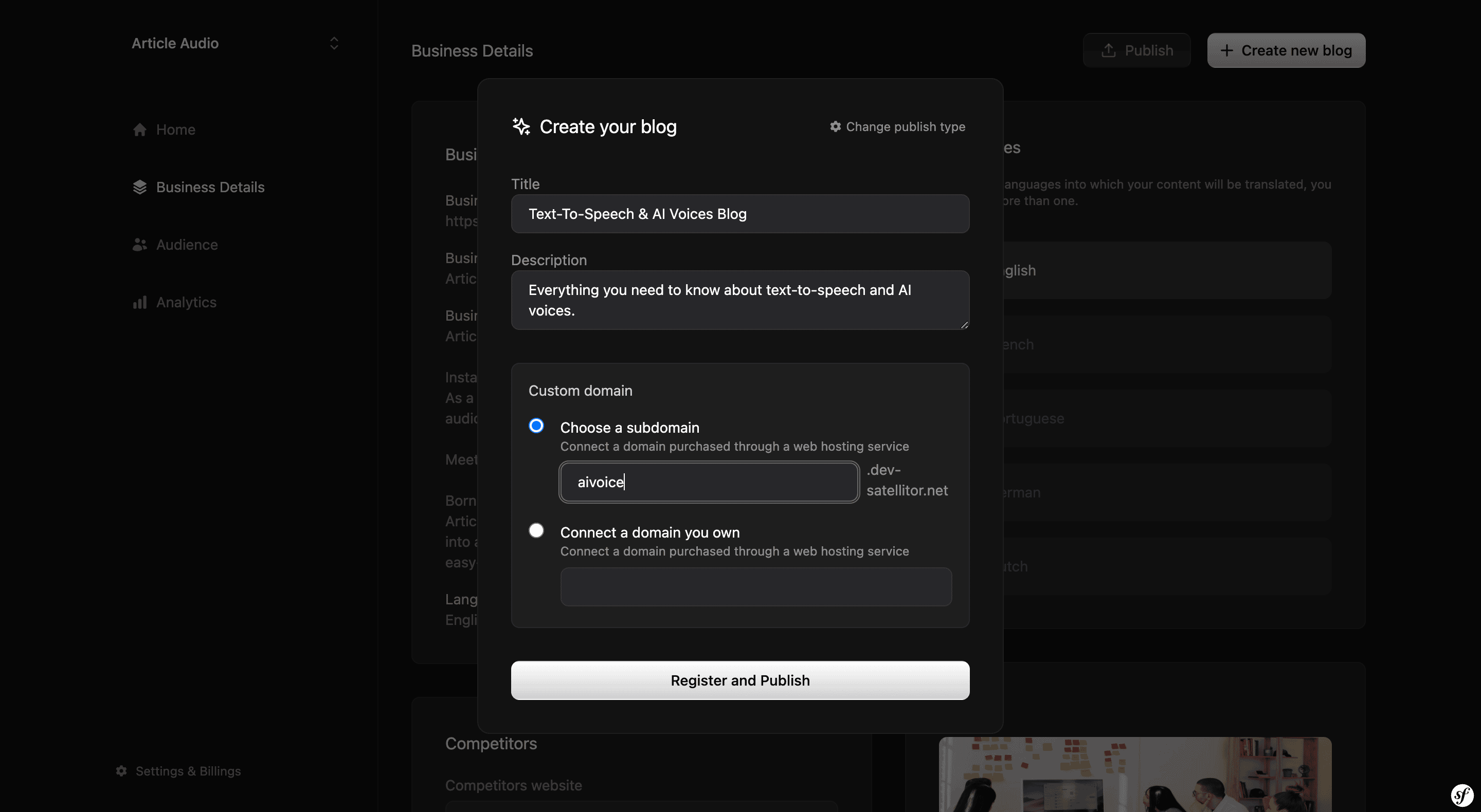 ★★★★★
Working with Satellitor was a game-changer.
They delivered top-ranking content that amplified our online visibility and brand recognition, while saving us time and money. Their exceptional service, reliability, and professionalism make them a highly recommended solution.

Yifan Goh
Founder at Our Baby AI
Everything you need for high-quality SEO content, that ranks
Your business details and voice
Aim audience that convert
Target relevant keywords
Spy and compete your competitors.
Undetectable AI, human-like writing
2,000 words per blog post in average
Unlimited blog post ideas
Internal and external link building
Fully automated SEO platform
Cover image from Unsplash
★★★★★
Satellitor is the way to go.
Works as advertised - I started getting many blog posts and Satellitor team members was very supportive and flexible with my questions and requests.If you're looking to improve your SEO and you either have nothing or need backlinks - Satellitor is the way to go.

Vytas Butkevicius
Founder at Outframe
Easily create, publish and host your blog
No technical skills needed. No Code needed. No management time needed.
Start a perfect SEO blog from scratch
Registered domain name
Hosting
Your brand color
Free SSL
Marketing copy management
Analytics
Automatic sitemap
Lightning Fast
Custom domain
Relevant meta tags
Connect to your favorite tools
Integrate Satellitor seamlessly into your workflow. Connect to your favorite CMS, including Wordpress, Webflow, Shopify, Ghost, and many more...
Receive your blog posts by email
Get blog content delivered to your inbox, ready to publish, share, proofread or even resell.
Your blog will be... Fast!
Results after Google Page Insights analysis.
100

Performance

100

Accessibility

100

Best Practices

100

SEO
Reach new markets with multilingual SEO
Automatically created blog content in your language and languages you want to aim. Say 'Bonjour' to your new visitors!
Availabe in 150+ languages
Multilangue SEO in one-click
Machine-powered translation
Proofread by native humans
Blogs loved by marketers and Google
Google is complete okay with AI generated blog posts. They even say so in their official documentation.
Frequently
Ask
Questions

What is Satellitor, and how does it work to drive traffic to my website?

Satellitor is an AI SEO agency that creates blogs to increase traffic to your main site. By filling out a 5-minute form, we manage your new blog, automating 80% of the content creation with AI, and humans handle the remaining 20% for quality. You can check our showcase for examples.

Can I trust AI with my SEO needs, and how does it compare to human input?

Our AI-driven SEO service is designed to work alongside human efforts. It adheres to best practices, is customizable, and continually updates. This allows for efficiency without losing the personal touch.

Does Satellitor work with non-English content?

Yes, Satellitor works with non-English content. Satellitor is available in 150+ languages.

Can Satellitor help me with topics and keywords?

Yes, we can advise you on keywords to aim for your blog.

What does "SEO optimized" mean?

The content and structure of your blog will be designed to follow Google's rules.

Is payment secure?

Yes, we use Stripe for payment. We do not store any of your credit card information.

Is it possible to get a refund?

Yes, you can get a refund up to 14 days, if you don't fill out the form. Once you have filled in the form, we will start writing your content and creating your blog, so it will not be possible to get a refund (due to the high cost of human labor and artificial intelligence). By completing the form and validating the payment, you agree to waive your right to a refund for this reason.

Can I cancel my subscription at any time?

Yes, you can cancel your subscription at any time. (in one simple click)

What happens to my content if I stop my subscription?

You remain the owner of your content. You can simply download them from your dashboard even if you stop your subscription.
Finally, your business will have the blog it deserves
The sooner you start, the better the results!